OKLAHOMA CITY HERPETOLOGICAL AND
                INVERTEBRATE  
SOCIETY
NEWSLETTER
                                                                                  March, 2016                                                        
EXTREMELY RARE BABY ALBINO TURTLE SPOTTED IN AUSTRALIA
By: Shreya Dasgupta
In Australia, a group of volunteers have spotted a rare albino green turtle hatchling.
Volunteers from the Coolum and North Shore Coast Care group were at Castaway beach on Queensland's Sunshine Coast monitoring turtle nests, when some of them spotted an albino hatchling, still sitting on his nest.
Normally, green turtle hatchlings are shiny black above with a whitish underside, and have white margins around the shells.
The albino hatchling however, had a white shell and pink flippers.
The volunteers nicknamed the turtle baby "Alby".
"We were just in the process of collecting our data and we removed the top of the surface of the sand, and there was little Alby," Sherida Holford told
Brisbane Times.
"In our nine years of monitoring the marine turtle nests on the Sunshine Coast, we've never seen anything like this, and we may never see it again.
So we were all very surprised and thrilled."
The volunteers measured Alby, took his photos, and let him walk into the ocean and swim away, Holford said.
Albino hatchlings such as Alby are extremely rare, according to Dr Col Limpus, chief scientist of Queensland Government's Threatened Species Unit.
They probably occur at the rate of one in many hundreds of thousands of eggs that are laid, he told
ABC news
.
During summer months, Queensland's coast is home to Green turtles (Chelonia mydas) and Loggerhead turtles (Caretta caretta) that come to lay eggs.
Green turtles can migrate long distances, shuttling between nesting and feeding grounds located in Australia, Indonesia, Papua New Guinea, Solomon Islands, Fiji and other places.
The green turtle is listed as Endangered under the IUCN Red List.
Photo courtesy of Coolum District Coast Care Group.
THE CASTAWAY: NEW MONITOR LIZARD FILLS TOP-ORDER PREDATOR ROLE ON REMOTE PACIFIC ISLAND
ScienceDaily
Source: Pensoft Publishers
An adult Varanus semotus in its habitat at the outskirts
of the village of Nai.
Photo by Valter Weijola
Separated by several hundred kilometres from its next of kin, a new species of blue-tailed monitor lizard unique to the remote Mussau Island has been described.
Unknown to science until recently and formally termed the "isolated," it is the only large-sized land-living predator and scavenger native to the island.
Dubbed a "biogeographical oddity" by its discoverers, led by Valter Weijola, a graduate student from the University of Turku, Finland, the lizard species is also the first new monitor lizard to be described from the country of Papua New Guinea in over twenty years.
The finding was published in the open-access journal ZooKeys.
Monitors play an important ecological role in many island ecosystems in the southwest Pacific.
Predatory mammals have never colonized the region due to the isolation of these islands.
Instead, these large, active and intelligent lizards fill the role of top-predators and scavengers.
The Pacific monitor lineage to which the new species belongs have been so successful at oversea dispersal that a number of different species now occupy almost every island from the Moluccas in Indonesia to the eastern Solomon Islands and even Micronesia.
The new endemic species was observed and studied during fieldwork by Weijola and local assistants in the relatively dry coastal vegetation of Mussau, but it is likely that it also persist in the remnants of intact forest in the interior of the island.
The formally described female lizard, or holotype, measures 1 m with the tail being one and and a half times the length of the dominantly black-coloured body covered with yellow and orange markings.
The tail of the adults shows varying degrees of turquoise to bluish pigmentation.
Another distinctive feature for the species is the pale yellow tongue, which is a trait shared only by three other species of Pacific monitors.
The new species is known to eat crabs, other reptiles and their eggs, and small birds.
"Usually monitors like these will eat just about anything they can catch and kill, as well as carcass and turtle eggs when available," explains Weijola.
"While young, Pacific monitor lizards are highly secretive and subsist mainly on insects and other small animals."
The new species, which can grow to well over a meter in length, was named Varanus semotus, a Latin reference to the remoteness and isolation of the relatively small and partly volcanic island where the lizard was found.
Close examination revealed the reptile to be distinct from its relatives from New Guinea and New Britain. Genetic studies, conducted by co-authors Stephen Donnellan, South-Australian Museum, and Christer Lindqvist, Åbo Akademi University, showed that the species has been isolated for a long time, estimatedly 1-2 million years, or even longer.
"Isolation is the keyword here," says Weijola.
"It is what has driven speciation and made the South-Pacific region one of the World's biodiversity hotspots."
For anything to arrive on Mussau (from New Guinea or New Britain) it would need to cross 250-350 kilometers of open sea, and this doesn't happen frequently.
So, once the ancestor arrived, perhaps in the form of a gravid female, the population must have been completely isolated."
"These islands are full of unique creatures often restricted in distribution to just one island or island group," explains the researcher.
"Yet, we know relatively little about them.
Even large species of reptiles and mammals are regularly being discovered, not to mention amphibians and invertebrates.
This is what makes it such a biologically valuable and fascinating region."
NEW TARANTULA NAMED AFTER JOHNNY CASH AMONG 14 SPIDER SPECIES FOUND IN THE UNITED STATES
Source: Pensoft Publishers
This is an adult male of Aphonopelma johnnycashi from California.
Credit: Dr. Chris A. Hamilton; CC-BY 4.0
A new species of tarantula named after the famous singer-songwriter Johnny Cash is one of fourteen new spiders discovered in the southwestern United States.
While these charismatic spiders have captured the attention of people around the world, and have been made famous by Hollywood, little was actually known about them.
The new descriptions nearly double the number of species known from the region.
Biologists at Auburn University and Millsaps College have described these hairy, large-bodied spiders in the open-access journal ZooKeys.
"We often hear about how new species are being discovered from remote corners of the Earth, but what is remarkable is that these spiders are in our own backyard," says Dr. Chris Hamilton, lead author of the study.
"With the Earth in the midst of a sixth mass extinction, it is astonishing how little we know about our planet's biodiversity, even for charismatic groups such as tarantulas."
Tarantulas within the genus Aphonopelma are among the most unique species of spider in the United States.
One aspect of this distinctiveness that is particularly intriguing is the extreme size differences that can be found between species.
Some species are quite impressive, reaching six inches (15 centimeters) or more in leg span, while others can fit on the face of an American quarter-dollar coin.
Within the United States, Aphonopelma are found in twelve states across the southern third of the country, ranging west of the Mississippi River to California.
These spiders are conspicuous during the warmer months when adult males abandon their burrows in search of mates, yet very little was known about these spiders prior to the study.
Dr. Hamilton notes that more than fifty different species of tarantulas had been previously reported from the United States, but that many of them were poorly defined and actually belonged to the same species.
To gain a better understanding of the diversity and distributions of these spiders, the research team spent more than a decade searching for tarantulas throughout scorching deserts, frigid mountains, and other locations in the American Southwest, sometimes literally in someone's backyard.
They studied nearly 3,000 specimens, undertaking the most comprehensive taxonomic study ever performed on a group of tarantulas.
Because most species of tarantula in the United States are very similar in appearance and cannot be distinguished from each other using anatomical features alone, the research team implemented a modern and "integrative" approach to taxonomy by employing anatomical, behavioural, distributional, and genetic data.
Their results indicate there are 29 species in the United States, 14 of which are new to science.
Of the new species, one has been named Aphonopelma johnnycashi after the influential American singer-songwriter Johnny Cash.
Dr. Hamilton coined the name because the species is found in California near Folsom Prison (famous for Cash's song "Folsom Prison Blues") and because mature males are generally solid black in coloration (paying homage to Cash's distinctive style of dress where he has been referred to as the "Man in black".
While the researchers found that most species are abundant and have relatively large distributions, they also noted that some have highly restricted distributions and may require conservation efforts in the not-so-distant future, as they lose their habitats due to climate change and human encroachment.
"Two of the new species are confined to single mountain ranges in southeastern Arizona, one of the United States' biodiversity hotspots," says Brent Hendrixson, a co-author of the study.
"These fragile habitats are threatened by increased urbanization, recreation, and climate change.
There is also some concern that these spiders will become popular in the pet trade due to their rarity, so we need to consider the impact that collectors may have on populations as well."
In addition to spider specimens collected by the research team, the study used a tremendous number of specimens gathered from museum collections across the United States, including the Auburn University Museum of Natural History (AUMNH).
Project senior author Dr. Jason Bond, director of the AUMNH, notes that studies like these highlight the critical role that museum collections play in understanding our planet's biodiversity.
The AUMNH, located in Auburn, Alabama, possesses the second largest collection of Aphonopelma in the world, behind the American Museum of Natural History in New York.
Tarantulas have gained notoriety for their imposing appearance and perceived threat to humans, but Dr. Hamilton notes that the fear is largely unfounded and that the species in the United States do not readily bite, are not dangerous, and are really just "teddy bears with eight legs."
RED MILK SNAKE
By Will Bird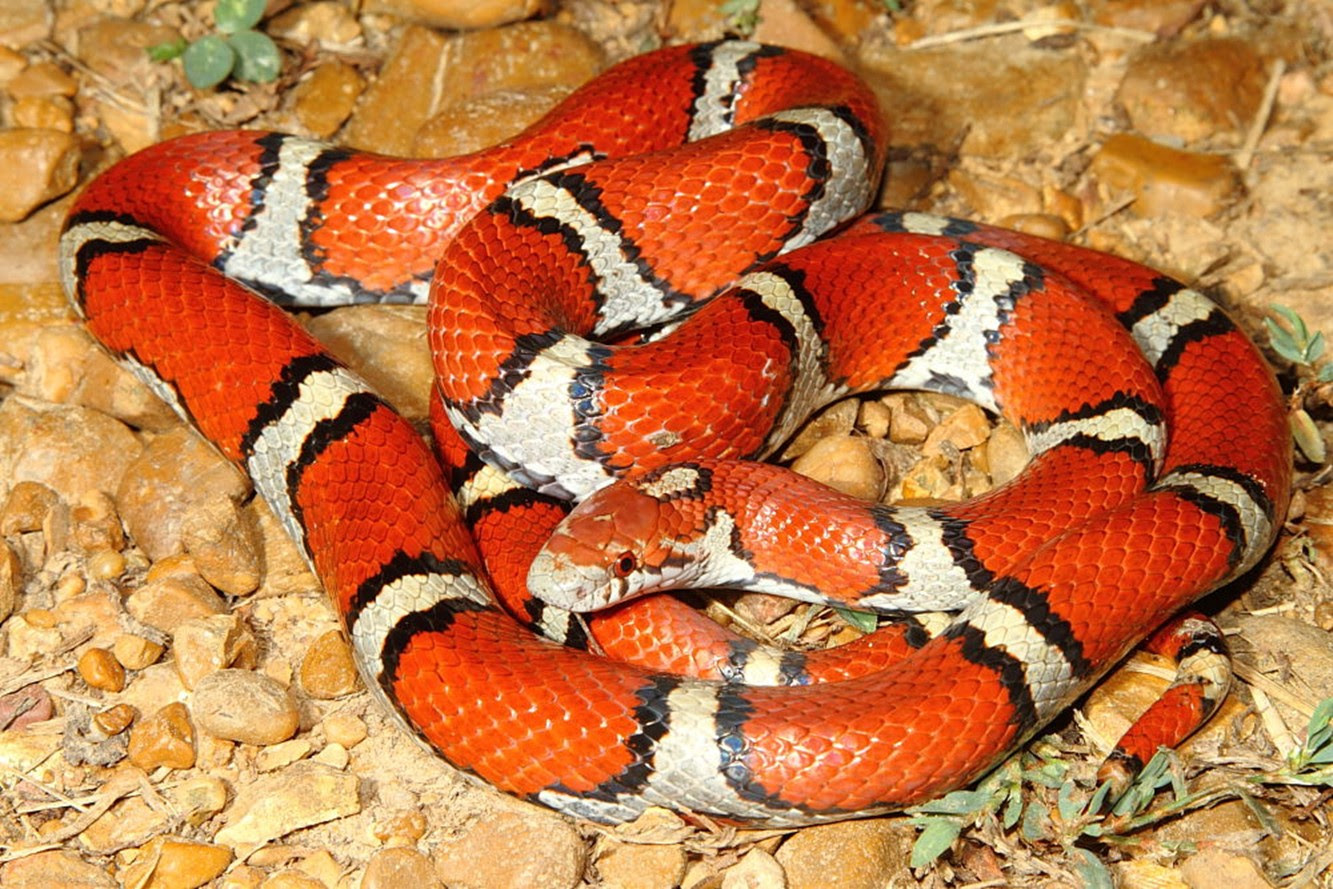 We are fortunate to have a nice population of Red Milk Snakes (Lampropeltis triangulum syspila) in several western Kentucky counties. In our region it is possible to cruise roads and find these snakes from the time when it gets dark to the very wee hours of the morning prior to dawn.
While we try to cruise under conditions that we believe are prime, often even then it is possible to not find any of these snakes…even when other snakes are being found.
The random offerings turned up by road cruising is something that's problematic and usually we prefer to have a little more control over the hunt when possible.
So we also deploy artificial cover to help in locating these snakes.
We have found that these snakes are attracted to layered sheets of metal, so if you are having trouble finding them, try stacking your metal up.
Red Milks in our area live in forested habitat, but like all reptiles they utilize open areas where the rays of the sun reach the surface.
We have found layered metal set out where the canopy is open works very well.
It is a sight to behold when you peel back a sheet of metal and see such a beautiful high-contrast snake sitting on dull colored metal of the earth tones of the soil underneath.
Locating a Red Milk Snake in Kentucky makes any good day better and turns even the worst of days into a nice day for guys like myself.
MARBLED NEWTS
By Richard Bartlett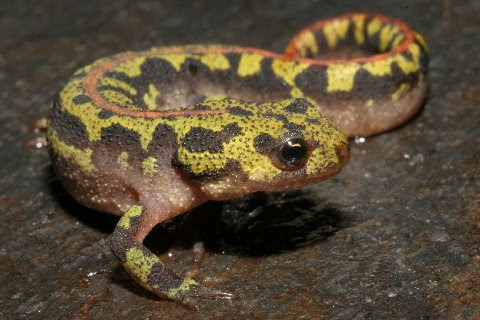 The green and black color of this beautiful newt blend well with the aquatic vegetation.
Newts, a subset of salamanders in the family Salamandridae, may be found in both the New and Old Worlds.
The males of many of the Old World taxa develop nuptial finery (seasonally present and often exaggerated caudal, nuchal, and vertebral finnage) that, no matter the season, no New World species ever has.
And of these Old World salamandrid dandies, IMO one of the most beautiful is the black on forest green (more rarely the black may predominate) marbled newt, Triturus marmoratus, of Spain, Portugal, and France.
Black on green may sound flamboyant, and indeed it is when seen in a home terrarium or aquarium.
But when at home in the dappled sunlight and submerged vegetation of a woodland pond, the color combination is a surprisingly effective camouflage.
Although high and very noticeable the even-edged black and green banded vertebral and caudal finnage of this large (it attains a stocky 4 ½ – 6") newt is less ornate that that of several of its cousins.
The nuptial fins of these latter are prettily scalloped.
But what the marbled newt lacks in fin appearance is more than compensated for by beauty of color.
And as just a bit of added splendor, when, following the breeding season the fins of the marbled newt are resorbed, they remain represented by an orange middorsal ridge.
Can you say "pretty?"
Fortunately marbled newts are captive bred for wild examples are difficult to acquire.
Although highly aquatic, land areas should also be provided for this newt.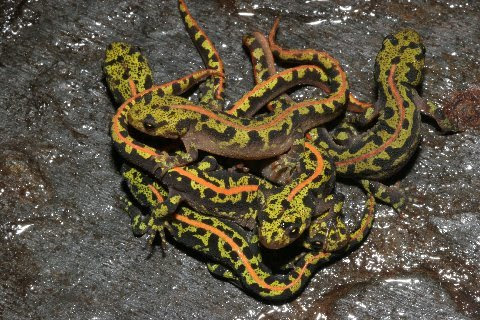 CUNNINGHAM'S SKINK
Australian Museum
The Cunningham's Skink (Egernia cunninghami) is a sun-loving variety of spiny-tailed skink. The species is named in honor of Alan Cunningham; explorer and botanist, who collected the first specimen in the Blue Mountains.                    
Identification
This large skink has a long tail with keeled scales along its dorsal surface from the back of the neck down to the tip of the pointed tail. The legs are quite short, requiring the lizard to slide on its belly when it moves around.
Its colour can vary from dark brown and reddish to a jet black with distinctive with scattered patches of paler scales.
Size range
Snout to vent length is 250mm
Distribution
The species occurs within temperate climatic zone along both western and eastern sides of the Great Dividing Range from south-east Queensland down through New South Wales the Australian and into central Victoria.
The species is also found in South Australia where it is restricted to the cool climate of the Mount Lofty Ranges and Fleurieu Peninsula. Individuals in the north of the range tend to be slightly smaller and are brown or reddish, while southern populations are darker and strongly patterned.
Habitat
Forests and woodlands with rock outcrops.
The species occurs within forests and open woodland which feature rock outcrops.
Groups of Cunningham's Skinks bask on top of rocks and will scurry in between rock ledges to shelter.
Feeding and Diet
These omnivorous lizards feed on a variety of invertebrates such as insects, snails and slugs as well as vegetation such as fruit and leaves.
The captive diet for this species at the Australian Museum is provided in three feeds within a period of a week.
These consist of a small feed of chopped vegetables on one day, a small serving of kangaroo mince on another day as well five crickets or a snail for the third feeding.
The timing and order of the diet is changed around to simulate natural conditions and prevent stereotypical behaviour (where an animal will have predicable activity patterns and essentially be waiting to be fed).
This food is supplemented with calcium and vitamin powder to ensure that a nutritionally balanced diet is provided.
Other behaviours and adaptations
Like other spiny species of the Egernia genus, Cunningham's Skinks live in large social groups makes it easier to spot danger.
When threatened this lizard will take cover in a hollow log, under bark or between rocks.
If harassed further it will inhale air, making its body swell up – this increased size, combined with the spiky keeled scales, makes it difficult for a predator to dislodge the lizard from its hiding place.
Life history mode     
Diurnal
Life cycle
This species is viviparous with females producing litters of live young.
Mating and reproduction
This species is highly monogamous with most males fathering only one litter.
Dispite remaining within the same range and not often dispersing, genetic studies have shown that Cunningham Skinks can identify close relatives and always choose unrelated partners.
Litter size ranges from 1-11 young.
Conservation Status
Protected in all states. Listed as endangered in South Australia.
Management
This species is protected in Australia and cannot be collected from the wild and a permit is required in most states and territories to keep this species in captivity.
QLD BIRD EATING SPIDER (Australian Tarantula)
By: Amazing  Amazon
Photo courtesy of Amazing Amazon
The Queensland bird eating spider is also commonly referred to as the Australian Tarantula.
This is one of several species of large, aggressive spiders, which are found in the warmer and more arid regions of Australia.
The largest species may attain a body length of 60mm and a leg span of 160mm, with powerful fangs 10mm long.
This is the largest species of spider in Australia, and is part of the tarantula family, which comprises of the largest spiders in the world.
There are many different types of enclosures that can be used for this species but terrarium style enclosures work best as they have a mesh lid to allow for good ventilation and are escape proof.
Between 30-60cm long is recommended and as they are a burrowing spider your tank will not need to be too high.
Kritter Crumble is recommended for substrate use as this spider is a tropical species and likes moisture in its cage.
Kritter Crumble is a coco type substrate that allows for good water retention.
About 10cm depth is sufficient and will allow them to build their burrows.
Regular misting of enclosure will need needed to keep the substrate moist.
As AustralianTarantulas come from Far North Queensland some form of heating will be required.
A heat mat covering no more than 1/3 of the base of the tank is ideal.
This will allow them to move in and out of the warm area as they require.
Temperatures should ideally be kept around 20-25 Celsius.
Make sure you check your temperatures as over heating will kill your spider.
Your Tarantula should be fed 1-2 times per week and live crickets are their main food source.
Mealworms, Silkworms and even small pinkie mice can be offered to your spider as an additional food source.
QLD bird eating spiders do not respond well to being handled.
We would advise against handling as they can inflict a nasty bite.
There are no recorded fatalities from a bite from this spider but swelling and vomiting can occur.
By: Russ Gurley
Tuesday, January 26th. "Custodian of Eden Or a Preposterous Pipedream" – Carl Franklin
Tuesday, February 23rd.  Raffle & "Keeping and Breeding Boa Constrictors" – Mike Roberts

Tuesday, March 22nd.
Thursday, April 28th.
Thursday, May 26th.  Raffle

Thursday, June 30th.
Tuesday, July 26th.
Tuesday, August 23rd.  Raffle

Tuesday, September 27th.
Thursday, October 27th.  "On the Trail of Blonde Trans-Pecos Ratsnakes" – Dusty Rhoads/"Fall Festival"
Thursday, November 24th.  Raffle
Thursday, December 22nd. "Christmas Supper"
By: Lauren Pinaroc                                                     
Sat March 19 8am and 8pm Sutton Wilderness
Sat May 28 8am Meet at church Sandy Sanders WMA
Thurs June 16 8am Meet at church Blue River
Sat June 18 8am Meet at church Blue River
Sat July 16 8am Meet at church Camp Buster
Sat August 6 8am Meet at church Tishomingo
Thurs Sept 1 8am and 8pm Sutton Wilderness – Collecting for Expo
Friday Sept 9 TBA – Collecting for Expo
Friday Sept 16 Sequoyah Park – Collecting for Expo
Sat Sept 17 Beaver's Bend – Collecting for Expo
OCHIS ACTIVITIES CALENDAR 
By: Lauren Pinaroc
May 25 2pm Planning Meeting at and for MWC Library
June 22 10-3pm NW Library Day
July 20 10-2pm Guthrie Library Day
July 27 10-2pm MWC Library Day
Sept 23-25 Wildlife Expo
Sept30-Oct 2 BioBlitz